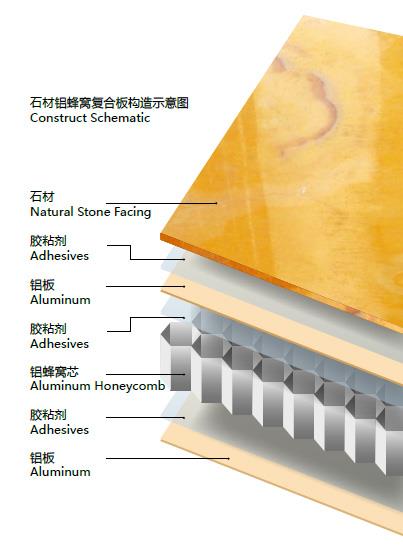 Ultra-thin stone honeycomb panels are safe green decorative materials, products with 3.0~5.0mm stone and aluminum honeycomb core materials with different thickness, and both the aesthetic characteristics of natural stone, and overcome the inherent weight of natural stone, easy breaking and other shortcomings. Widely used in high-large buildings of the exterior and interior wall decoration, floor ceiling decorative product has better impact resistance, to provide users with a better performance, wider application of new generation in the field of construction products.
Product advantages
1. all varieties of natural stone can be used;
2. lighter than traditional stone plate 80%;
3. anti-impact intensity more than five times larger than the traditional stone 3.0CM;
4. stone surface treatment can have a mirror, Matt, washing face, fire, Lai Chi Kok, sand, machine planing surfaces, such as multiple choice;
5. can be used in outdoor, indoor, lift and furniture decoration;
6. prefabricated as curtain wall units, install quickly and easily;
7. bending strength, able to withstand high wind pressure of invasion;
8. good water resistance that can prevent water infiltration;
9. low installation costs, shorter cycle;
10. has suffered 30 years of testing in the natural environment.

Standards Board technical parameters:
Average weight: 16kg/m2 (stone surface 5.0mm)
Standard panel size: 1000mmx2000mm
Maximum panel size: 1200mmx2400mm
Total thickness: 15mm/20mm/25mm/30mm ± 1.0mm
Tolerance (length width and diagonal): 1.5mm
Aluminum honeycomb panel thickness: 15.0mm
Engineering application
Renovation projects, such as a Bank, hotel, airport terminals, restaurants, shopping centres, hotels, business centers, clubs, entertainment, and other public places are common. In many aspects of new buildings if the stone honeycomb panel, not only can fully display the charm of natural stone, can also greatly reduce the repair load, reduce construction time. Stone honeycomb panel can also be processed into a curved plate.